88th Wegmans anchors Carlino Commercial Development's latest construction in Delaware County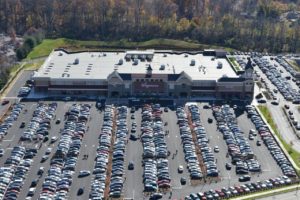 GLEN MILLS, Pa. (November 2015) – Carlino Commercial Development is pleased to announce that the Wegmans at its Brandywine Mills Shopping Center development opened its doors to customers on November 8. The store anchors the Brandywine Mills Shopping Center which is located at US 202, just south of Route 1 in Glen Mills. The store is 140,000 square feet and is complemented by an additional 90,000 square feet of the neighboring stores in the center.
Wegmans plans to hire 450 people locally, and the store will employ 525 people in total. 325 of the jobs are part-time opportunities. The store includes the Pub, a full-service restaurant and bar, and Nature's Marketplace, a section dedicated to natural and organic foods.
"We wanted to take a different, service-focused approach on this development," said Peter Miller, President of Carlino Commercial Development. "We decided to break up the appearance of the buildings by including multiple endcaps and enough room for a drive-through Starbucks. We think that it provides a more dynamic shopping experience for the consumer."
In addition to the Wegmans, the Brandywine Mills Shopping Center will include MOD Pizza, Heartland Dental, Zoe's Kitchen, PA Wine and Spirits, Sally Beauty, Franklin Credit, Hair Cuttery, Starbucks, and Chipotle.
About Carlino Commercial Development: Carlino Commercial Development develops, redevelops, acquires, and manages retail, office and residential properties in the metro-Philadelphia area. The commercial developers have been building strong relationships with communities, tenants, banks, brokers, funds, and other developers for 30 years.